Our Story
Sooner or later as you go through life you get a day or days that for some reason you never forget. It might be a great day or some horrible day but nevertheless you never forget it. August 17, 1987 is a day that will stay with me for the rest of my life. At 8:00 a.m. on Monday morning I received a distressed phone call from my mother. She was trying to wake my father up and he would not wake up. I knew instantly that my father had died.
I was very angry at the world for a period of time. It just did not seem fair that you should have to lose someone when they were so young. At 64 my Dad has just begun to think about retiring for a second time. He still came to work most days but not as early in the morning and he took longer holidays. Dad had just returned from guiding a group of visitors from Iceland on across Eastern Canada. He had called me at home Sunday night and told me about how wonderful the trip had been and that he would see me early the next morning as we had lots to do. That was the last time we talked.
During the year prior to his passing Dad had been working on a Centennial project for the Islendingadagurrin (Icelandic Festival of Manitoba). He had decided that it would be appropriate to have Icelandic Horses come to Manitoba for the 100th anniversary of the Icelandic Festival and put on a demonstration. Dad kept me informed of what he was planning and he tried to instill some enthusiasm for the project in me but we were very busy at work and although I was patient with him I was not very interested. We owned a number of thoroughbred race horses and I was of the opinion that horses as small as Icelandics could have nothing to offer me. Maybe a horse for kids to ride but when I heard what the cost of an Icelandic Horse was I quickly dismissed the idea. The plan to bring Icelandics to Manitoba was going to die with Dad.
During late October Lorna Tergeson who was the president of the Icelandic Festival Committee contacted me and requested that I take over the project to bring horses to Manitoba. My immediate reply was NO !! Lorna was persistent and encouraged me to at least follow up on what Dad had been planning. I reluctantly consented to look into the matter and give it fair consideration. I was not very enthusiastic.
A few weeks later I received a call from Joe Sigurdson. Joe had been in contact with Lorna Tergeson and she had suggested that we get together for lunch and talk horses. Joe owns a business that custom builds horse trailers and was a polo enthusiast. We dug up all of Dad's correspondence and found a video that had been sent to him by Robyn Hood and Susan Hodgson. The video aroused our interests and the project was resurrected.
The original plan was to arrange for Susan Hodgson and a group of Icelandic Horses and riders to come from Toronto to give and demonstration and then the horses would go back to Toronto. This would have provided great entertainment but nothing would be left behind. Joe and I continued to meet and discuss the horse project and we eventually conceived a more grandiose plan. We decided that if these little horses were as exciting as they looked on video then maybe we should try to expand the project so that we could permanently establish Icelandic Horses in Manitoba. The initial goal of a one time only show was revised. If we were going to do this thing then we would try and establish some kind of legacy to stay in Manitoba.
Joe and I soon discovered that we shared many common interests and we became friends almost immediately. We were the same age, both of us came from small Icelandic communities, both of us had recently lost fathers, and most of all we both loved horses. Joe played polo and I rode for pleasure. It wasn't long before we figured out a way to get horses to Manitoba, put on a demonstration and establish horses in Manitoba permanently.
During the winter of 1987 - 1988 we contacted as many of the business associates and friends that we could and tried to raise enthusiasm for our plan. Manitoba is home to more citizens of Icelandic descent that any other place in the world. Our sales pitch was simple. With so many " Western Icelanders " in Manitoba we explained that there should be Icelandic Horses and with their help we would see to it that the situation would be corrected. We formed a syndicate of 20 members requiring an investment of $2,500.00 per investor. In return for the investment we would purchase a number of mares in foal and a young stallion.
We would bring them to Manitoba and for the next few years we would raise foals. Annually after weaning we would draw names out a hat and for each share in the syndicate one weanling foal would be delivered. We collected $50,000.00 in short order and received requests from a number of individuals that wanted horses of their own. Momentum really picked up and we were starting to have some fun. The mares and stallion would establish a permanent legacy and the individually owned horses could provide us with the talent for the horse show at the Icelandic Festival. Joe and I made arrangements to travel to Iceland in August of 1988 to look for horses and somehow complete the project. We received great support from the corporate community with our travel plans. Air Canada gave us passes to New York and Icelandair looked after the air fare from New York to Keflavik. Viking Travel of Gimli, Manitoba provided us with seats on the return portion direct from Keflavik to Winnipeg.
| | |
| --- | --- |
| | Four of us took the trip and it proved to be an exciting time. Joe took along his mother Helga and I took along my mother Marie. At this stage of the game Joe and I were enjoying the adventure but neither one of us were convinced that Icelandic Horses could replace what we already had. Joe plays polo and had four polo ponies. He is fairly tall and was concerned that they would be too small for him and I was still doubtful about their ability to handle a grown man. |
On the way from Winnipeg to New York we ended up on the same plane as Ron Sigurdson. Ron became involved immediately and now owns over 20 Icelandics.
We had no itinerary planned so we rented a Subaru and headed out in search of horses and horse owners who could get us on the right track. For the next ten days we listened and learned and rode a few horses. Every day we tried something new and met an assortment of horse owners and breeders. We really didn't know what we were looking for. One of our first contacts in Reykavik was Sigurbjorn Bardarson - Diddi. He was very helpful.
Day 5 brought us to Akureyi where we would stay with friends that had visited us in Canada a few years earlier. We responded to an advertisement in the local newspaper and arranged to go riding the next day with Hugga ( Hugrun Ivarsdottir ). Hugga turned out to be the best contact that we made on the trip. She took us on a two hour ride and we told her all about our plans. We were exactly what Hugga was looking for. She wanted to travel to Canada and work for a short while with horses. As it turned out she was going riding with a group of friends on the weekend. They were taking about 30 horses up the mountain for an overnight camping trip and returning the next day. Hugga would talk to her friends and see if we could come along
Hugga called that night and verified that we would be welcome on the trip. We looked forward to the next day. We rose early and headed for our meeting point with great enthusiasm. We met Hugga and nine of her friends at a small horse farm just out of town. It was hard to contain our excitement as the riders mounted up and headed down the road to leave the farms. The two riders that were to follow the group for the first phase of the trip opened the gate and the mass of horses charged out of the corral and headed down the trail following the riders. The two tail riders could barely contain their horsed as they tried to keep up with the group ahead. We were scheduled to ride the first phase of the trip in the Bronco with Reynir Hjarturson. He advised us that the first phase of trip was down the ditches and across a couple of busy highways. It was not fun riding and he did not want to chance putting us on any of the horses until we headed into the mountains. Reynir sensed our disappointment and assured us that there would be plenty of riding and asked us to be patient.
Thirty minutes later we pulled up to a large stone corral to wait for the horses to arrive. Moments later the riders arrived and turned into the paddock. The loose horses turned as a group on signal through the gate as though they were a single unit, their manes flying in the breeze, their tails held high and dust flying up behind them like volcanic cloud. They were excited and happy to be on the trail and so were we.
The gate closed behind them, the riders dismounted and removed their tack. The horses settled down to enjoy the break and the riders sat down in the sun with us to enjoy a snack of buns and coffee. Joe and Brett were introduced to everyone, questions were asked about our riding ability and 20 minutes later we waded in the mass of horses to choose our mounts for the next phase of the trip. We were astounded as to how well the horses accepted us moving among them while the new mounts were caught and tacked up. We kept expecting to be kicked at any moment but if our hosts were foolish enough to wade through the sea of horses then we had better get on with it if we wanted to ride.
| | |
| --- | --- |
| | My first mount was a very small red and white pinto mare called Skjona that seemed to be too small for me. I suggested to Reynir and Hugga that maybe they should give me a bigger horse. They just laughed and said that even though she was small that she thought she was big and she was a very powerful horse. They suggested that if I could not handle her then they would find me an easier horse to ride. Reluctantly I mounted the tiny steed and she surged into action and out the gate in an instant. It took all of my strength to contain the little girl while the rest of the crew caught up. She was a tremendous tolter. Very fast and very smooth we covered the ground at a pace that was unbelievably fast. It took almost two miles for her to tire a little and slow down so I could relax. I was nervous and pulling too hard and my arms were so weak by then that I welcomed her willingness to slow down. Joe had been given a large chestnut horse with a white mane and tail to ride. He too was having the ride of his life. Both of us were developing a new respect for these little horses. Never again would we refer to them as ponies. |
We soon arrived at a roaring river. Reynir suggested that if we preferred we could ride in the Bronco and cross at the bridge down the road. The river looked dangerous but we chose to swim with the horses. I have to admit that my heart was racing when we hit the river but the horses knew what they were doing and charged willingly ahead. Within seconds were into the rushing river and the horses were swimming and we were being carried down stream. What was only a minute seemed like an eternity before we charged out of the river on the other side. We had been carried downstream about 100 yards in the current. As my horse found its footing she surged ahead practically leaving me behind. We had entered the water third and came out first. The other thirty were close behind. Feeling refreshed the horses tolted down the trail with renewed vigor. Within minutes the river was well behind us and we were at the next rest stop, removing our tack 5 and wading through whirling mass of horses to join our new friends for lunch and a taste of brennivin.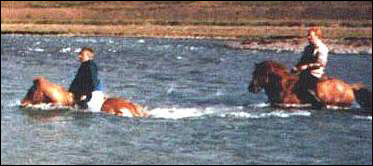 Hugga asked " Do you still think your horse is too small? " as she handed me the bottle of brennivin. The grin on my face was all the answer she needed. " Scole" was my only reply a I raised the bottle and toasted my hosts.
We continued our trek throughout the day. We rode four horses each, travelled a total of 18 miles, crossed two rivers and climbed 3000 vertical feet before 4:00 p.m. Much as we wanted to stay the night and ride again the next day we had to say goodbye. We had to get back to Reykavik the next day so we could catch our flight home. We were exhausted as we got into the Bronco for trip home but deeply satisfied that we had made the right decision to bring horses to Manitoba. We were optimistic that we had met the right people to help us buy the horses we needed.
In March of 1989 our horses arrived in Winnipeg. They were flown to Montreal and trucked the rest of the way. Dreki, Stormur, Drottning, Ogn, Skjoni, Skjona, Vinur, Fonix, Sorti, and all the rest. It was a special day for all of us. Later in the month Hugrun Ivarsdottir ( Hugga ) and Hoskoldur Jonson ( Hossi ) arrived to help us with the horses.
We took them to parades throughout Manitba and started training our participants for the Icelandic Horse Demonstration scheduled for the first weekend in August at the Islendingadagurrin. Over 500 people came out to watch our event and we knew by the crowd that all our hard work was appreciated. It is a great feeling to be part of a plan that works out.
Time flies by when you're having a good time. It will be seven years ago in March that our Icelandic Horses arrived in Manitoba. Everyone involved with the horses has benefitted from their magic in one way or another. For me they came into my life at a very important time. Dad had suddenly died and I was angry. I had lost my dad, my friend, and my business partner and the road seemed a little too rough.
I needed something to happen to smooth out the bumps and my Dad came to the rescue. Because of his interest in Icelandic Horse I became involved. As a result of Icelandic Horse Joe's family and my family have become very good friends and have had some great times together. I continue to love to spend time with my horses. They give me a great release from the stress of day to day life. When the roads gets a little rough I love to get on one of the horses and go tolting down the trails. The fast smooth gait seems to settle me and make me realize that I can handle the road of life comfortably if I find the right gait.
| | |
| --- | --- |
| There is old saying that fits the Icelandic Horse more than any breed I have ever dealt with. " There really is something about the outside of an Icelandic Horse that is good for the inside of a person. " | |